Project Description
Zero Emissions Port Container Moving System: Linear Rail Conversion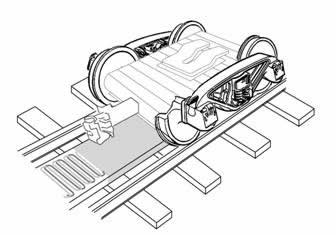 Linear induction motors (LIM) react against a conducting plate under the vehicle. Linear synchronous motors substitute the metal conductive plate with an array of magnets adding a level of sophistication, economy and safety that is recognized as superior in linear synchronous motors (LSM). The system envisioned for the project is a long stator linear synchronous motor configuration; one where the vehicle is dumb, containing no propulsion system or electronics.
Freight train cars can be moved individually simply by adding magnets on to the bottom of the vehicle, or alternatively using helper cars to push or pull the train or train cars. The small helper cars are nothing more than a bogie with wheels, magnets and a coupler attached.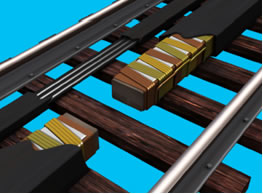 There is a small 7" by 24" concrete box that mounts on the railroad cross ties that houses the induction windings which consists simply of an iron core with several metal windings wrapped around it. The box housing the windings can be made of plastic or even encased in concrete. The magnetic wave reacts with a magnet array mounted on the bottom of an existing railroad car or helper cars. Every half mile or so along the track is a power pick up connected to the electric power grid. In addition to the ability to move existing individual railroad cars, new light weight passenger vehicles can be constructed at lower costs than current passenger diesel or electric locomotives because they contain no motors.