Railyard Emissions Challenges
Diesel Particulate Matter Is Dangerous To Human Health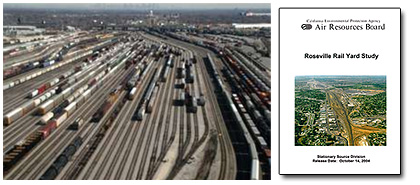 Communities located near Ports and rail yards experience the highest levels of pollution. Today trains using the best technology release levels of smog-forming oxides of nitrogen (NOX) comparable to 120 coal-fired power plants. In Chicago, for example, locomotives discharged as much NOX into the air in one year as 25 million cars meeting today's automotive emission standards. According to the Texas Commission on Environmental Quality, marine vessels and trains in the Houston-Galveston area accounted for 41 percent of the region's off-road nitrogen oxide pollution in 2002.
The California Air Resources Board analyzed diesel pollution from the Roseville Rail Yard, the largest service and maintenance rail yard in the West. The study found that the cancer risk level nearly doubled for these residents.
According to the Natural Resources Defense Council… "locomotives are among the most dangerous and pervasive sources of air pollution in the United States."
Additionally, EPA indicates that combined emissions from Diesel trains in Chicago, Los Angeles, Houston, Dallas, Baltimore and Detroit is equal to the emissions created by 55 million cars meeting today's automotive emission standards. This amounts to 37% of all automobiles driven in the United States today.
The dangers to human health of diesel particulate emissions are well documented, by CARB and others. In its Goods Movement Emissions Reduction Plan, CARB slated that goods movement-related air pollution can increase all- cause mortality, cardiopulmonary mortality and lung cancer mortality in adults, infant mortality, hospital admissions for all pulmonary illnesses, chronic obstructive pulmonary disease, pneumonia, asthma, and all cardiovascular illnesses. CARB has produced studies of the extra cancer risk caused in railyard-adjacent communities as a result of railyard operations. These studies can be found at www.arb.ca.gov/railyard/hralhra.htm. Using the relatively generous metric of an excess cancer risk of 10 in a million, the CARB studies found that over 1.8 million Californians are at elevated risk because of railyard operations.
The following CARB's breakdown by California railyard at the 10 in a million excess risk level:
UP Dolores: 309,000

UP Commerce: 187,000

UP Roseville: 140,000

UP Oakland: 130,000

UP LATC: 96,000

UP Colton: 60,000

UP Industry: 57,000

UP Stockton: 19,600

UP Mira Loma: 7,900

BNSF Hobart: 552,000

BNSF Sari Bernardino: 187,600

BNSF Commerce: 32,100

BNSF Stockton: 17,000

BNSF Watson: 12,600

BNSF Richmond: 6,200

BNSF Barstow: 6,100